Posted 04-19-2017
This week has been more than a little short on free time. It amazes me how that could be but it is.
Late last week an amazing thing happened. About 75% of the work I had thought that I had lost several years ago, almost twenty, came back to me. This was work from back in the early day's of the internet when myself and just a few others were looking at ways to publish our work and make a buck doing it. We had this dream about people reading it on-line. Of course people told us … That's nuts! Who would do that? … But we did it anyway and low and behold we even made a few dollars at it. Very few to be honest. You had to read it on-line at the site; on your monitor, but, man, did we think we had it going on.
I lost all of that work. I had it all backed up… I lost the backups too. Then someone put most of it right in my hands. I was speechless. I had no idea someone else had thought to save the work. I spent the weekend going through it. Back then I didn't do any of my own editing. I paid to have it done and truthfully I ended up with short stories and books that did not have my voice and that I did not like at all. I wondered sometimes why I spent thousands of dollars on editing that I hated. Then a few weeks back I read a critique of my work. They didn't like this they did like that and oh, he keeps spelling minute wrong (Minuet). #@#$%$ I thought. I still can't spell. Well, my friend said, that is why you have an editor. Oh, I said.
So I have an editor again. Because I can check something a dozen times and still miss something. As a writer you become so used to your own style that you find yourself skipping over words. Words that are maybe fine, but might not be. A second pair of eyes helps.
I spent part of the weekend reading stuff I had not read in twenty years or more. Wow. Wow, to say the least. A half dozen short stories. Two incomplete novels, and one full length novel finished and edited so well it doesn't even sound like my voice. I started to read it and realized I had found the book that made me write the Earth's Survivors series. It was interesting to me to read something that had inspired me to write a second book based off it nearly twenty years later because I had become convinced that book was lost. I would never see it again… And here it was. The first book I had ever written, yet never published because I was so conflicted about it. I had submitted it, had an offer and then withdrew it. I would not advise ever doing that. I angered more than a few people. And then I lost it, only to find it several years later. And, on top of that, someone else showed up at my house on the weekend with a printed copy of the same lost manuscript. It was like God said, look, I'm giving this book back to you. It was pretty amazing to me. So, the printed copy, very thick, is sitting on top of my printer, and the other copy resides on my hard drive and I am wondering what on earth I will do with it.
This week has been one of those weeks I wish I could back up and start over again. Like a slow train wreck. I am not necessarily in the wreck but affected by it just the same. I just have to stand aside and let it go. Soon the week will be over and a new one begun. I have about two free months before I have to get serious about the next book that is due in the fall. Right now I have twenty plus projects to pick from. I will make a choice soon.
There is not much else going on on this rainy Wednesday. I hope all is well in your world and I will see you on Friday. Check out Dreamers on the Smashwords site if you get a chance…
---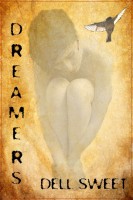 Dreamers
by Dell Sweet
Joe and Laura are dreamers. They meet in the dream worlds and Joe begins to fall in love with the beautiful Laura, but the dream worlds are treacherous: Nothing can be trusted, and nothing remains the same for long. As they learn the truth of dreaming they learn that nothing comes without a price, the price of this gift is coming due, and could very well mean death…
Read more now
368total visits,2visits today